NY Roofing For Troops | Dix Hills Roof Repair
March 12, 2015
Roofs For Troops
If you live in New York you know how extreme the weather can be. It puts wear and tear on everything around the home – from heating systems to pool pumps. One area of your home that is often neglected is your roof. Living in areas where the summers are extremely hot and the winters are extremely cold such as Plainview and Melville, it's a good idea to inspect your roof regularly. You want to check for damage and inadequate coverage. Take a look at your shingles and see if any are cracked, torn, or just missing. Look for rusted and protruding nails. See if the pipes and roof penetrations still have their seals intact. Remember, if you do choose to go up on your roof, always utilize proper safety equipment to prevent injury.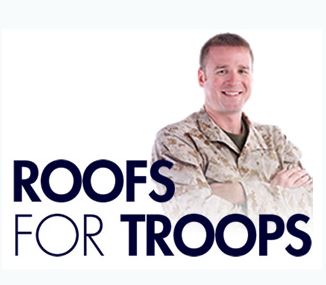 If you decide to replace your roofing, we at Roof Pro are offering a NY Roofs For Troops rebate for all activity military, veterans and military retirees. To be eligible for the $250 rebate all you have to do have us install a GAF Lifetime Roofing System on your home. There is also a matching manufacturer GAF rebate that you may be eligible for. That is $500 back on your roofing system. And, to sweeten the deal, we'll give you a free GAF Systems Plus Enhanced Material Warranty.
When you decide to go with Roof Pro, we'll walk you through the entire process. First you'll meet with the job foreman and lay out all of the unique specifications for your home improvement. Building codes vary greatly depending on where you live and it's important to make sure all permits and approvals are obtained. Once approved, we'll begin the tear down of the old roofing and applying the new, updated underlayment. At the end of the job, we painstakingly clean up your home, using magnetic sweepers on your lawn and ensuring that all materials are recycled appropriately.
If your roof is in need of a roof replacement, give your local New York Roof Repair Company a call! We've got you covered!