Home Improvements During Any Season | New York Roof Pro
Many homeowners are under the impression that outdoor home improvements can only be made during warmer months. However, renovations such as roofing can be performed during any season, weather permitting. Understanding and adhering to manufacturers' restrictions is essential to a successful installation. A contractor must know its limitations during changing weather conditions. Although temperatures fluctuate, winter roof installation is possible. For example, RoofPro installed a new roof last winter in West Islip. Temperatures were in the mid 50's, allowing for a full week of work. In fact, cooler temperatures provide a simpler installation process with less damage to existing landscapes.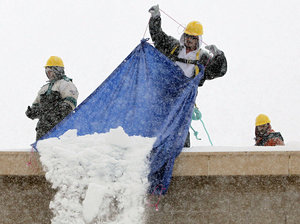 Waiting may benefit your wallet; contractors are often more inclined to offer a discount in the winter months in order to keep their schedule full year round. In some circumstances, depending on your residence, renovations are not permitted during the summer. Areas such as beach communities, which have frequent tourists, do not allow construction during their busy season.
With Labor Day marking the end of summer, people are more apt to start a new home improvement project. Vacations are winding down and schedules are now free. While cooler temperatures make roof installation possible, homeowners should be aware of the restrictions that may halt its process. For instance, heavy snowfall and severe cold may delay installation. Some roofing manufacturers have temperature restrictions when applying their product. To create a seal or cosmetically "lay down", temperatures must be appropriate. Furthermore, limited daylight can add time to the installation job, simply because there just aren't as many hours to complete it per day. Sometimes snow removal maybe included as an extra expense, depending on the amount of snow and the big issue if there is solid ice attached to the roof.