Flat Roof FAQ | New York Roof Pro
This is basiclly a Question and Answer page of typical questions we get from consumers about roofing on their houses, apartments buildings and commercial buildings. The Flat Roof FAQ page is designed to help answer the most popular of these questions.
Q:         What is the best flat roof? 
A:          There are many types of roof systems, and installed properly, all can work well.  We like to use "modified" roof systems (excluding torch / APD) when budget and durability are required.  EPDM (rubber) roofs do well in large, low traffic roofs or small roofs that can be done with little or no seaming.
Q:          How much do flat roofs cost?
A:          There are a few factors that effect the cost of NY flat roofing. 
Full removal and replacement of re-roof go over.
The amount of penetrations and walls.
Years of warranty / life expectancy
Example #1 – a re-roof with minimal penetrations and walls and an 8-year warranty will cost about $2.50 to $3.50 per square foot.
Example #2 – a full removal with a heavy penetration and wall profile and a 20 year warranty will cost about $6.50 to $9.50 per square foot.
Q:          Why do flat roofs always leak?
A:          We have found that almost all leaks are from miss installed or missing penetration and wall flashings.  This happens when a New York roofing contractor "low balls" the cost of a new roof, then cuts corners on flashing after the field of the roof is installed.  Knowing how your roof is being finished is more important than the roof itself. This where the finer points of roofing is done and really the most critical because it is how water intrusion usually comes in from.
Q:          Is it bad if water sits on my roof after it rains?
A:          Yes, this is a problem.  The definition of standing water by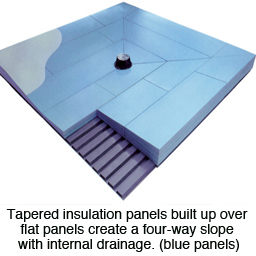 roof industry standard is: 24 to 48 hours in moderate weather conditions.  If water is still present after a day or two, this will permanently destroy your roof in these areas and void any manufacturers warranty. Sometimes drains can be added at poor drainage locations or tapered insulation can be added to move water to the drain location.
Q:          Is there anything I need to do to maintain my roof warranty?
A:          Yes, all manufacturers will require you to "prove" that you have proficiently cleaned and maintained your Nassau County roof bi-annually, and you must report any problems to the manufacturer within 60 days.  Failure to do so gives the manufacturer an easy out for honoring a warranty issue. 
Q:       Why do roofs collapse under snow load?
A:          We have found that the engineering of a modern NY flat roofing structure is usually done correctly to handle snow load.  Failures generally happen when certain conditions are present.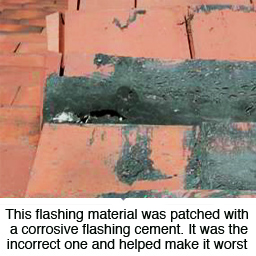 Years of water damage, thus compromising the structure of the building.
Additions to a structure that create "traps" or "high walls" where huge loads of drifting snow can accumulate.
Clogged or frozen roof drains or scuppers.
Modifications to the interior of the building made with no concern for structural impact on the roof.
Old structures, not necessarily built to any code. This usually is the reason.