Roof Pro – Drain Systems | New York – Long Island Roofing Services
The design of your roof system will generally control the movement of water to a specific location of the building.  Once at this location the water needs to be removed thru some type of drain system. This Roofing Drain Systems is usually done one of three ways.
Roof Drain – This typically is a unit that has a bowl, clamping ring, strainer and hub that attaches to the drainpipe. The roof is brought over the bowl and the clamping ring is installed to compress and seal the field of the roof to the bowl so as to not allow water under the field of the roof. An internal drainpipe system is attached to the drain bowl and water is carried to the designated location. A strainer is installed on the roof side to prevent debris from entering the drain system. It is important the location and capacity of the drain is adequate for the amount of water it must remove from the roof system.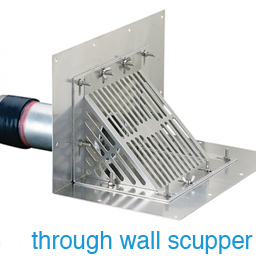 Thru-Wall Scuppers – This drain system allows water to move off the roof thru an opening in the parapet wall. This opening is water proofed with a fabricated metal scupper that is flashed into the roof system. Once thru the wall to the outside of the building, water is dumped into a leader head and funneled into a drainpipe that carries the water to the ground or drywell.
Gutter – This can be a traditional 5" or 6" "K" style gutter or some form of a shop fabricated box gutter. This is used when the roof pitches to the gutter location and water will drop off into the gutter system. Having a gutter that can handle the capacity of the water in heavy rains is crucial, as it will overflow if not. Proper transition into gutter system with an edge metal and flashing must be done correctly to avoid water intrusion.
Whichever drain system your building is equipped with, it is vital to keep the system clean. Clogged drain systems can cause major water intrusion, collapse and premature failure of the roof system. Clearing drain areas during ice and snow conditions is highly recommended to insure melting snow and liquid can exhaust from the roof area.